Main content starts here, tab to start navigating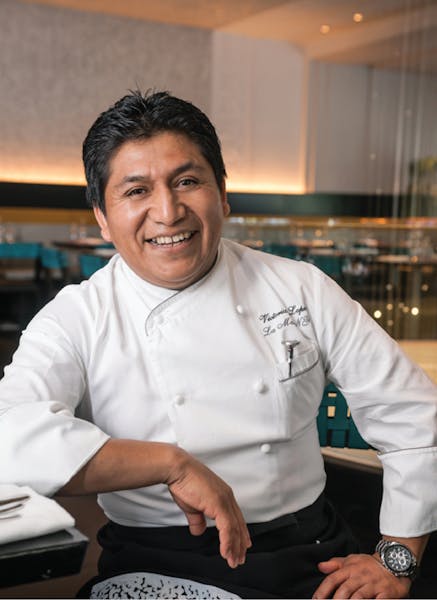 Victoriano Lopez
Executive Chef
After cooking with Chef Gastón Acurio for more than two decades, Victoriano Lopez joined the La Mar San Francisco team as a Corporate Executive Chef in September 2015. Born and raised in the Ancash region of Peru, Lopez first joined Acurio's restaurant group, Acurio Restaurantes, in 1995 at Lima's Astrid & Gaston—which recently took the 14th spot on San Pellegrino's 2015 World's 50 Best Restaurants list. By 2000, he began working with Acurio to expand his restaurant empire internationally, opening La Mar Cebicherías in Mexico City, Madrid, and San Francisco as well as Peruvian-inspired Tanta concepts across the country. Before heading up La Mar San Francisco, Lopez resided at Tanta's Chicago outpost, working with Acurio to create new recipes for each restaurant concept.
Although Lopez now considers the west coast home, he is dedicated to continuing to share the traditions and cultures of his native country with San Francisco by serving authentic Peruvian cuisine in an approachable, casual, and colorful waterfront setting. "Spreading the knowledge and technique of Peruvian food is my calling," says Lopez. "Our menu takes diners on a creative voyage through Peru, showcasing the diverse landscape and ethnicities that make up the country's culture."
At La Mar, Lopez is committed to showing San Francisco the meaningful mixtures of taste that lie at the cornerstone of Peruvian cuisine. With Lopez's innate creativity at the foundation of every plate, his menu focuses on dishes iconic to Peru, such as the country's most famous dish of cebiche, in addition to a number of lesser-known plates that highlight Peru's multi-culturalism and biodiversities such as the Plancha Marina with prawns, octopus, calamari, salmon, Portobello mushrooms, aji panca, and Pisco sauce and Quinoa Chaufa with wok-fried quinoa, bell peppers, seasonal vegetables, and a fried egg. Lopez resides in San Mateo with his wife and three children. When he's not immersed in all things Peru, he most enjoys spending time with his family over an old-fashioned home-cooked meal.