Celebrate La Mar's 15 Year Anniversary with Gaston Acurio!
September 29, 2023 07:00 PM until September 29, 2023 11:00 PM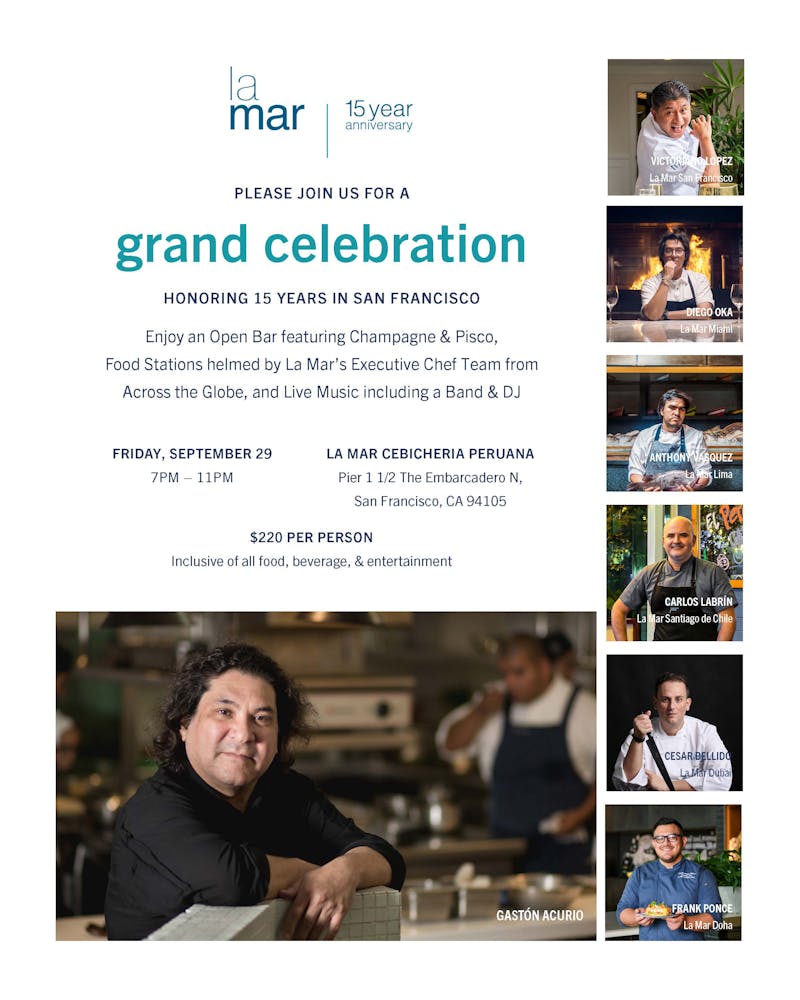 La Mar Cocina Peruana is proud to announce its 15th anniversary celebration on San Francisco's waterfront promenade, the Embarcadero. To commemorate this milestone, La Mar will be hosting a grand celebration highlighting its Peruvian cuisine and celebrated cocktails on Friday, September 29.
The pinnacle will feature Gastón Acurio, as he is joined by La Mar's executive chef team from its restaurants across the globe including; Chef Victoriano Lopez of La Mar San Francisco, Chef Diego Oka of La Mar Miami, Chef Anthony Vasquez of La Mar Lima, Chef Carlos Labrin of La Mar Santiago de Chile, Chef Cesar Bellido of La Mar Dubai, and Chef Frank Ponce of La Mar Doha.
Guests can anticipate an evening filled with exceptional tastes and bites as each La Mar chef hosts a food station, along with free flowing pisco and champagne, festive live music and dancing on the waterfront patio, and a DJ performing inside La Mar Bar – all set against the stunning backdrop of San Francisco's Embarcadero.
Tickets for the grand anniversary event are $220 per person inclusive of food, drink and gratuity for the evening. You can purchase tickets here.
La Mar Cocina Peruana looks forward to welcoming the San Francisco community from near and far to join them in celebrating 15 years of exceptional culinary experiences, the spirit of collaboration, and the rich flavors of Peru.
La Mar 15th Anniversary Menu September the 29th 2023
$220 PP
Diego Oka : La mar Miami
Conchas Oka: grilled scallops, white wine, 24-month parmesan cheese foam, lime, garlic crumbs
Anthony Vasquez : La Mar Lima
Lobster mac and chupe: Maine Lobster and macaroni in chupe sauce, cheese, and huacatay
Carlos Labrin: La Mar Santiago
Anticucho de mero enchichado: Grouper skewer marinated with chicha,aji amarillo
Cesar Bellido: La Mar Dubai
Diablo con cangrejo: Deep fried scorpion fish, covered with aji de gallina sauce and dungeness crab meat
Frank Ponce: La Mar Doha
Pulpo con pesto: grilled spanish octopus, with basil cream with truffle
Victoriano Lopez: La Mar SF
Centolla reventado: stir-fried King crab with aji amarillo sauce, pachicay and and leche de tigre
Victoriano Lopez
raw bar (sashimis)La Mar San Francisco
hamachi Sashimi
tuna SASHIMI
salmón SASHIMI
halibut SASHIMI
jumbo prawns STEAMED
STEAMED lobster SASHIMI
STEAMED king crab SASHIMI
live scallops IN AJI AMARILLO AND HABANERO TAPIOCA
cliff point oysters CEVICHERO
MINI Ceviche California: California halibut-avocado with artichoke leche de tigre, and artichoke chips.
MINI Quinoa con erizo: Peruvian quinoa salad topped with Santa Barbara Uni, quail egg, avocado and seaweed salad.
La Mar SFO Hot station
Arroz con cangrejo: arborio rice cooked in their own pacific dungeness crab broth, aji panca, aji amarillo, and white wine. Topped with its own crab meat, avocado chalaca, and huacatay aioli foam.
La mar SFO Grill station
Anticucho de corazón: grilled veal heart, with chocolate and roasted potatoes, y rocoto carretillero.
Tomahawk La mar: grilled 29 days aged bone in ribeye, with chimichurri criollo
Passed Appetizers:
Empanada La mar: rock shrimp meat, artichoke, leeks, and cheese
Causa Limena: Idaho potatoes causa, topped with dungeness crab salad and aji amarillo sauce.
Empanada de choclo: sweet and peruvian corn stewed in aji amarillo, butter and cheese
anticucho de Carne: Grilled Akaushi beef culotte skewer glazed with anticuchera sauce and rocoto carretillero
Postre De La Mar:
We will do large a Sweet table plus La Mar Birthday Cake:
Chocolucuma: Lucuma mousse, chocolate cake. (Dairy, Gluten)
Traditional Alfajores: Peruvian style shortbread cookies filled with Manjar Blanco. (Dairy, Gluten)
Peruvian Chocolate Truffles: Peruvian chocolate ganache. (Dairy)
Suspiro Limeño: Tradicional Egg yolks dulce de leche, Porto wine meringue. (Dairy, Egg)
Tapioca tropical: Coconut tapioca pudding, Mango salad, Coconut chips, frozen raspberry. (Vegan)
Chocolate mousse: Peruvian chocolate mousse, quinoa caramelized, chocolate chips. (Dairy, eggs)